Cooltech power supply donated emergency power supply to Wuhan anti epidemic designated hospital
2020-02-28
Recently, the novel coronavirus infection in Hubei province is still very severe. The most important thing is to ensure adequate medical resources to diagnose and treat patients. The stable operation of hospitals and medical equipment is particularly critical.
As a listed company of emergency standby power supply equipment for key industry departments, Ketai power (300153) generator sets are used in many key hospitals in China to ensure the safe and reliable operation of hospital power.
Recently, the company learned that the single power supply of the hospital of traditional Chinese medicine in Caidian District of Wuhan urgently needed diesel generator set as emergency power supply. The company immediately proposed to donate the emergency generator set and contacted the other party through Shanghai Overseas Chinese business development foundation. After obtaining the confirmation information, the company immediately worked overtime to arrange production. At present, the company gives priority to the production of donated equipment. After everyone's efforts, the donation crew has been sent to Wuhan by special vehicle. The company also sent service engineers in place in time to do a good job in installation and commissioning.
At the beginning of February, Cooltech power also donated 500000 yuan to Wuhan epidemic area through Shanghai Charity Foundation to purchase medical materials for fighting the epidemic, such as medical masks, masks, goggles, protective clothing and thermometers, so as to provide strong support for front-line soldiers in white.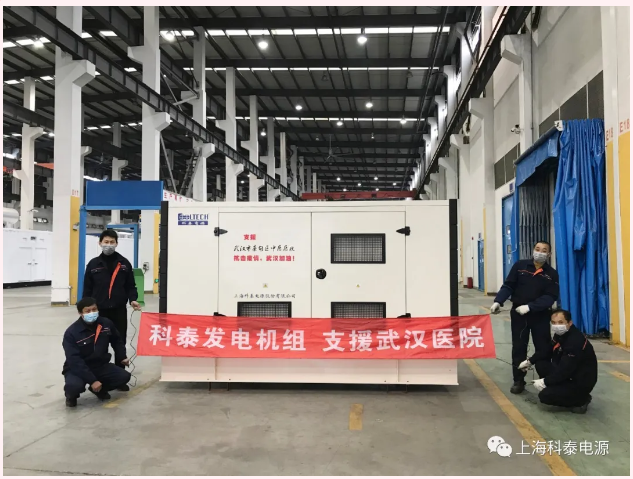 All installation and debugging of the silent generator set produced by Ketai power supply is completed in the factory, and the fast power supply can be realized by simple cable connection on site. As an emergency power generation equipment, it can provide construction and living electricity for hospital construction. After the hospital is completed, the unit can be used as the backup power supply of the hospital.
In recent years, due to the important role of generating units in emergency power supply, Cooltech power has actively participated in donation activities for major natural disasters such as snow and ice disasters in southern China, Wenchuan earthquake, Indonesia tsunami, Japan earthquake, etc., and made positive contributions to emergency support and post disaster reconstruction.
With the development of the epidemic situation and the call of the state, Cooltech power, as a listed company, continues to carry forward the spirit of "sharing worries for the country and serving the people", and practices its social responsibility. It has joined in the battle of no smoke of gunpowder to provide strong backing for the medical workers in the front line. I believe that under the concerted efforts of all, this fight against the virus will surely win!
Return to the previous page